Last updated October 6, 2023 at 06:45 AM
Today, discover software made in Togo that anyone residing in Togo should know.
We wrote a similar article in 2013. This year during the checks, we noted with great regret that all the software from that time could no longer be found.
For web applications that have won competitions and that were available as a platform have now become obsolete for some and unusable for others.
Based on this observation, we have rewritten all the content of this article to include the latest applications of the moment which are mostly unknown to the Togolese public.
We present to you the new list, the most complete possible of the applications made in Togo of the year.
Software made in Togo that all self-respecting Togolese should use
The applications that you will find are all created by Togolese people around the world for the majority of Togolese people. There is no precise order of importance, the important thing is that these software are all made in Togo and above all functional.
1 - innov Care Togo
This is a mobile application that connects hospitals, pharmacies and analysis laboratories with users residing in Togo.
Innov Care Togo makes it possible to identify the nearest health centers thanks to geolocation which integrates a system allowing you to indicate the distance which separates you from the health unit closest to you.
Download Innov Care: https://play.google.com/store/apps/details?id=pharmacy.ubxty.com.pharmacy
2 - Lomé city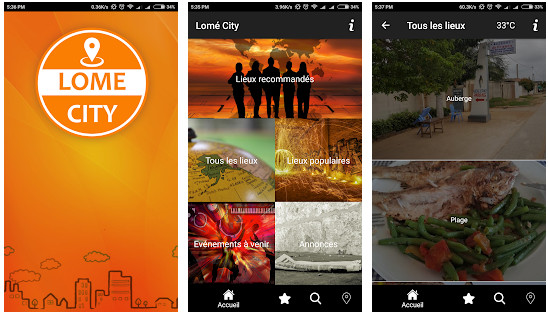 Lomé City is a directory and guide for the city of Lomé, the capital of Togo.
The Lomé City application allows you to easily find interesting places in Lomé (shops, restaurants, bars, hotels, pharmacies, etc.). It also allows you to find the most direct routes to a location on a map.
Are you looking for a restaurant, hostel, hotel or supermarket? The free Lomé City app helps you quickly find information about a desired location (address, phone number, brief description) and guides you to that location.
Download Lomé city: https://play.google.com/store/apps/details?id=com.fdc.freedeveloperscommunity.lomecity
3 - Togo safe
Togo Safe is a mobile application which is largely inspired by the one designed in South Korea to eradicate covid-19.
The application alerts you if you have been near someone who tested positive for Coronavirus; whether he is an acquaintance or not.
This allows users to self-isolate and notify health authorities to take care of them.
For more information see Togo Safe: The Togolese application to fight the covid-19 pandemic
Password manager is a password manager made in Togo which offers a variety of features including copying passwords and nicknames to the clipboard.
It has a pro version which guarantees you advanced protection of your password against the outside.
5 - LOCASUR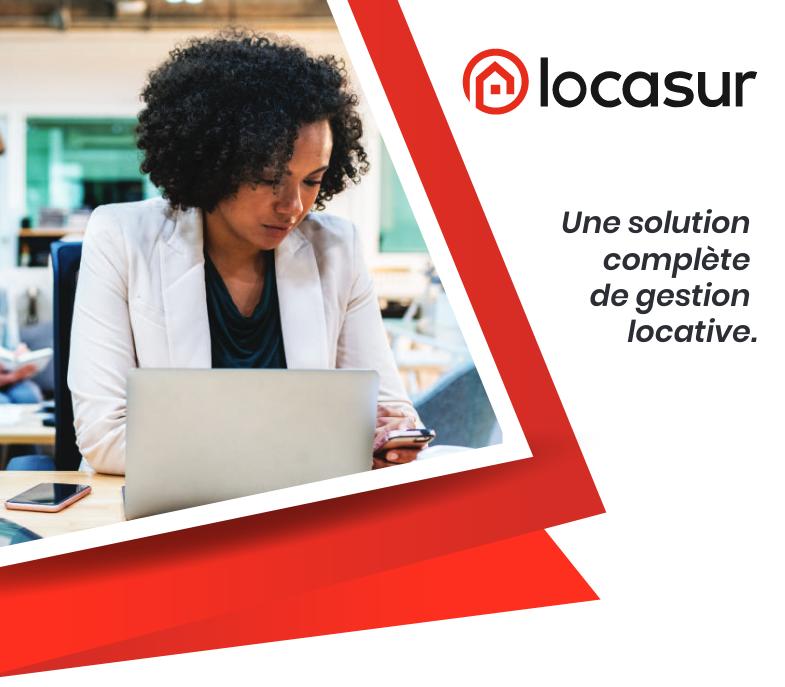 LOCASUR is a digital rental management platform that allows real estate agencies, owners of rental houses and bailiffs to manage their real estate and collect rents without traveling.
To learn more about LOCASUR see LOCASUR - complete rental and property management solution - Announcement
6 - Togo zik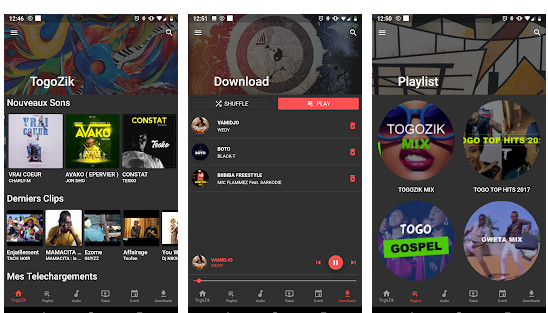 Togozik is an application that promotes Togolese music in a beautiful interface.
You can listen to music, see video clips, be aware of upcoming events and shows in Lomé. The application also allows you to create your own playlists and listen to music offline.
Download Togozik: https://play.google.com/store/apps/details?id=com.togozik.mobile
7 - Egbe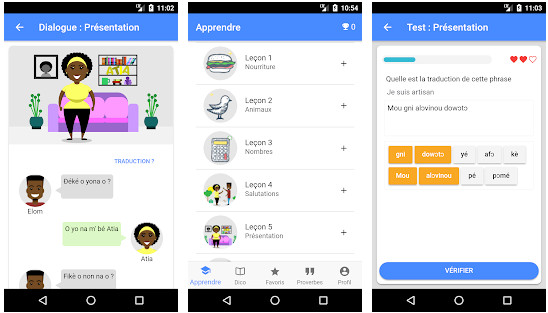 Egbe is a free application allowing you to learn Guin / Mina thanks to:

- a French-Guin, Guin-French (French / Mina, Mina / French) dictionary accessible offline
- a game to learn words more easily
- proverbs to learn more about the culture of the Guin people.
Download Egbe: https://play.google.com/store/apps/details?id=tg.egbe.app
8 - SusuNote
SusuNote is a note-taking app that specializes in supporting multiple types of notes and helping you structure them.
You can make your personal memos and add images and videos as you wish. You can also change the theme by adding an image to the home page.
The note-taking app will take colors from your favorite image and apply them to the rest of its system for you.
Learn more about Susu Note
9 - Okpa bac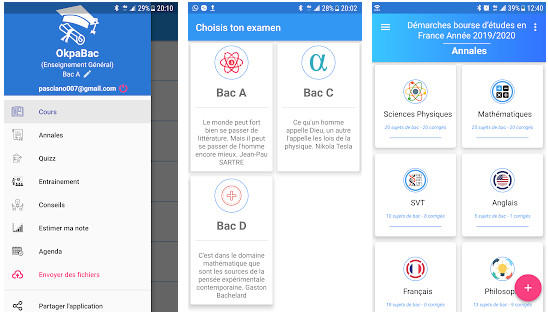 Surely you have already heard of the Okpabac application. It is a service that allows you to revise and pass your Baccalaureate.
It also contains lessons and exercises for students in Terminale A, C and D. The application is intended to be complete to succeed in the BAC.
Download OkpaBac: https://play.google.com/store/apps/details?id=com.okpafaces.okpabac
10 - Flappy kub game
Flappy kub is one of the few games made in Togo that has not been deleted by the google playstore.
This is a game inspired by the famous game Flappy Bird. The difference is that the game is much less punishing than the original version, the environment is in 3D and is accompanied by calm music. The goal is to create a game that is both relaxing and full of challenge.
Learn more about flappy kub
11 - Koosmik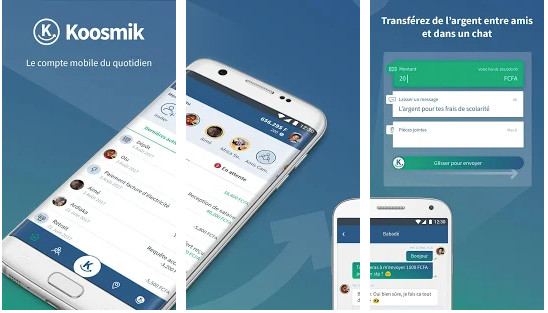 It's a mobile app that acts like your digital bank in your pocket.
Here you can transfer money, pay bills and earn money online. The Koosmik application also allows you to follow the movements of your account.
Download Koosmik: https://play.google.com/store/apps/details?id=com.koosmik.app
12 - Gozem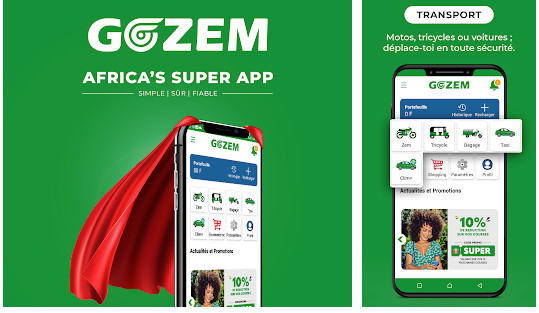 You have certainly heard of Gozem. The UBER of transport in Togo and Africa which continues to reinvent itself until it intervenes in the delivery of parcels.
Download Gozem: https://play.google.com/store/apps/details?id=com.gozem
13 - All pharma Togo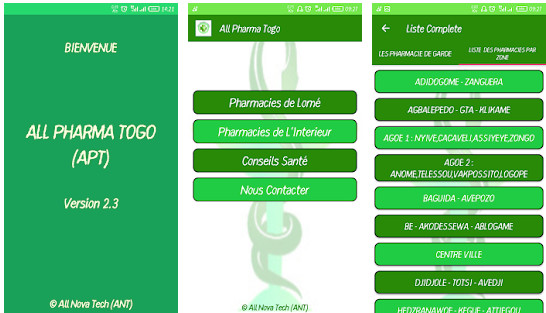 Now you don't have to worry about finding guard pharmacies in Togo. The All Pharma Togo application allows you to find the closest on-call pharmacy to you.
Download All pharma Togo: https://play.google.com/store/apps/details?id=net.allnovatech.pharmaciestogo
14 - File search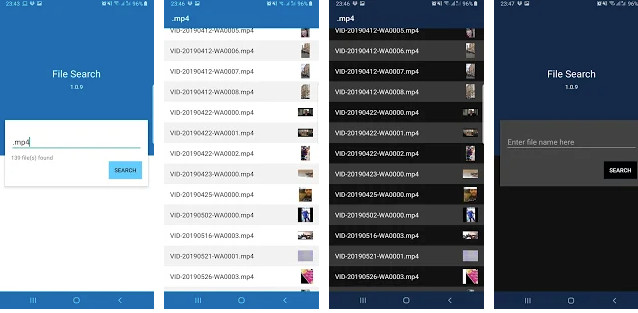 File search is the app that helps you find your files by typing their name. This search engine focuses only on finding files. It does not take folder names into account.
For more information see File Explorer- an even easier alternative to find a file in your android – Filesearch
15 - Jobees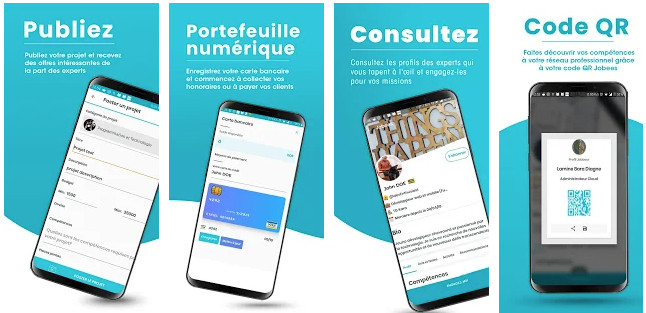 Jobees allows you to find jobs that match your skills by bringing you closer to project leaders, companies, etc.
It is a platform that effectively and efficiently connects workers on the one hand and project leaders on the other.
Download Jobees: https://play.google.com/store/apps/details?id=com.devgen.smartjobs
16 - SOS Mobile
Witness or victim of a disaster (road accidents, building fires or seizures and illnesses) in a place that you have trouble recognizing?
Do you no longer have the emergency number for the police, or the fire brigade in mind? No more to worry about. With SOS Mobile, notify the emergency services in two clicks of an emergency.
Download SOS Mobile: https://play.google.com/store/apps/details?id=com.dashmake.sosmobile
17 - JeNote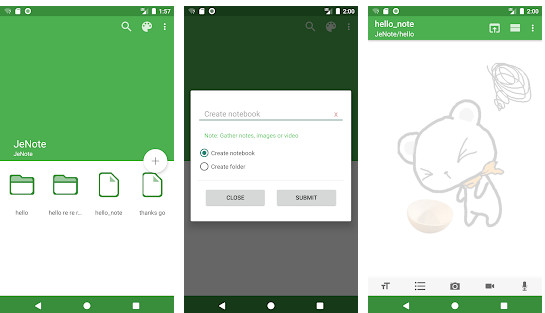 The JeNote app is the most extensive overhaul of the SusuNote app.
The developer was spoiled for choice when choosing its next design. To avoid making a painful choice, he chose to create another SusuNote but with the design he so desired added.
This new application is called JeNote (instead of SusuNote 2). In addition to the interface, many optimizations have been made at the technical level, but what interests us the most is that this application is made in Togo.
Have you created an application made in Togo that is not listed here? Write to us on the contact on the page partner.