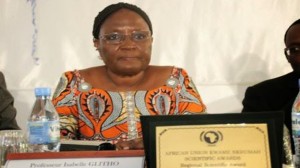 The universities of Togo, welcomed this Tuesday, March 11, 2014 the exceptional course of Isabelle Adolé Glito, the first woman professor in animal biology of the country. Winner of the 2013 "Kwame N'krumah" Scientific Prize organized by the Union Africaine, Isabelle Adolé Glito works to increase the number of women in science in Togo.

Holder of a doctorate in entomology in 1977, Glitho is one of the cream of the crop in Africa. The Togolese, specialized in the physiology of the development and reproduction of insects, was admitted as full professor in Animal Biology in 1998. The professional activities of the latter have not been able to take precedence over her values ​​as an African woman to which she is attached.
Several revolutionary initiatives at the University of Lomé are to be put to the credit of this fighting lady. Among its achievements, we can remember the creation of the applied entomology laboratory and the establishment of the International Master in Environment, Water and Health involving five countries including Togo.
President of the foundation "Togolese Women for the Promotion of Science and Technology", the Togolese scientist is campaigning for a better representation of Togolese women in the world of science. The mentoring and tutoring system she has put in place is already bearing fruit.
The "Kwame N'krumah" award is not the first honorary distinction received by Adolé Glitho. Knight of the Order of the Academic Palms of France in 2003, Officer of the Academic Palms of Togo 2010, Chevalier of the Academic Palms of CAME in 201, Knight of the French Legion of Honor in 201, Isabelle Adolé Glito dedicates all her prizes to its colorators.
Adolé Glitho has a bibliography worthy of his rank. She has already published 80 articles and fifteen scientific reports on research projects carried out.
source: http://www.africatopsuccess.com/