Last updated November 16, 2022 at 05:28 AM
Discover the 3 main modern tools that an agent can use today in digital real estate marketing to succeed.
Nowadays, technology has made marketing easier than ever.
All company, big or small, would greatly benefit from digital real estate marketing.
In this post, you will discover 3 main and essential tools allowing modern real estate agents to promote their services.
[bctt tweet="3 marketing tools for the modern realtor" username="tedidevblog"]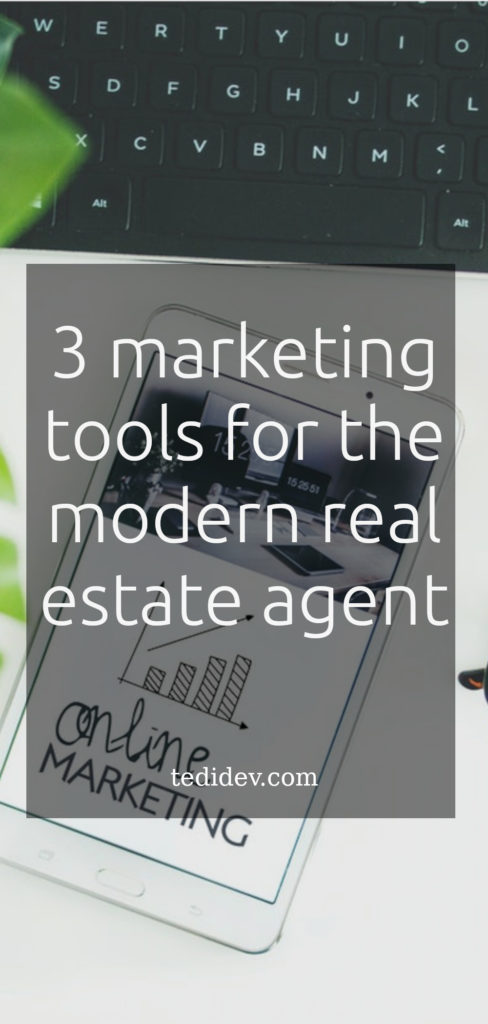 DIGITAL REAL ESTATE MARKETING – 3 essential tools for the modern real estate agent
Many people are buying homes online. It's gotten to the point that the only physical interactions the buyer has with the agent are twofold.
The first to inspect the house, and the second to sign the last papers.
The second part is not even necessarily required, as the digital signature is now considered a valid signature.
Today, let's talk about essential tools for real estate agents that you can use online. These tools have a variety of ways you can use them.
It is important to know which one will work best for your business. To get the most out of your business, it's best to have at least 2 of these tools at your disposal.
1- Social media
Of all the marketing tools on this list, social media is the most modern and lucrative. Almost everyone is on social media these days.
Whether it's a senior looking for a retirement home, or a recent college grad looking to live on their own, they'll likely use all the social media there is and maybe see your ads in the marketplace. FB.
Real estate is especially effective on social media because of all the tools at your disposal.
Let's take a look at the different platforms you can use in your marketing strategy on social networks.
• Facebook
One of the best social media sites for a business, FB Pages give you tons of tools to run your business online. You can basically use the page as a basic personal website.
On your page, potential customers can message you via Messenger, browse a gallery of properties for sale in the Albums tab, stay up to date with any news about your business by following you, and more.
For the real estate agent, he can advertise his page for a small fee to make his business one of the first results whenever people search for real estate. They can also take advantage of one of the largest markets available in the digital space.
•Instagram
Instagram is more of a "teaser" than an actual place to run a business, but the sheer number of eyes on the platform is worth considering.
With over a billion active users and the hashtag system, real estate agents have put Instagram to good use. They advertise attractive properties on the website and then link them to their website.
Plus, few things beat Instagram when it comes to building your brand. It's much simpler than Facebook, but sometimes simple is better.
• Youtube
YouTube is a video hosting platform and is the place for video marketing.
By cleverly using the algorithm, you can market your business while giving potential customers a glimpse of what you can offer.
It is a great addition to your other social media platforms as it has the best video player.
2- Email Marketing
Although email marketing is no longer the modern standard for online marketing, it still has a prominent place in the digital landscape.
Of course, attracting new customers via email isn't the only way to be a draw anymore, but it still has its unique benefits.
Email campaigns, unlike social media, have the advantage of addressing the customer, not the other way around.
Emails also provide a more professional way to connect with customers. Email campaigns are also the most profitable. Essentially all you have to do is have a list of potential customers and then send an email.
Compared to the complexity of a website and social media page, email marketing requires relatively little work.
This makes it an attractive option for those looking to focus on more important tasks within the business.
3- Personal website
While social media is certainly lucrative, there's nothing quite like having your website. Unlike social media, having your own website gives you complete control over your look, functionality, and most importantly, your customer experience.
If social media is more like a coloring book, a personal website is a blank canvas that you can use to promote your business.
Personal websites can have all the functionality of a social media page and more. You can have chatbots that can interact with your customers 24/24.
A personal website makes you stand out from other agencies because the identity is yours. They are also more likely to be picked up in Google results compared to FB pages.
Remember you can leverage your website to easily gain potential customers using SEO.
Finally, unlike other platforms such as email or social media, there are no distractions for the customer. They won't see other potential rivals and will focus entirely on you and your business.
Auteur: Kat Sarmiento from Katreena's content studio
Last updated November 16, 2022 at 05:28 AM
Conclusion
Here is all for today, if we want to conclude, we will say that digital marketing is a super important tool to promote your services.