Last updated June 23, 2022 at 09:04 AM
Our Company JINIWAY TOGO is pleased to announce the launch of its digital platform LOCASUR.
LOCASUR is a digital rental management platform that allows real estate agencies, owners of rental houses and bailiffs to manage their real estate and collect rents without traveling.
To understand how it works you must first know the problem that this solution solves.
[bctt tweet="LOCASUR – complete rental and real estate management solution – Announcement" username="tedidevblog"]
The rental problems that LOCASUR solves
The digital rental management solution facilitates the connection between owners and tenants. To name a few here are the main advantages of LOCASUR :
It allows us to rent our property and collect our rents safely
We can monitor and manage our property remotely from the phone mobile devices
For tenants and buyers, we can pay wherever and whenever we want from our phone. Service available 24/7.
How it basically works
If you are an owner, a real estate agency or a bailiff, you must first:
Register on the platform locasur.com
Register real estate and tenants: When you add your tenants or create their accounts, the access information will be sent to them via SMS.
Wait to collect your rent. (this should be your favorite stopover)
Now it's the tenant's turn:
With the sms that gives you access to the platform, you can connect to LOCASUR
You choose your accommodation, in some cases you will just have to confirm.
You pay your rent (without pressure).
LOCASUR allows you to reduce the effort of traveling by yourself to collect the rents and also the pressure that some owners exert on the good tenants. In all cases the question of means of payment arises.
How can we pay or collect our rents via LOCASUR?
We said above that payment is made via the cordless telephone. You can collect and pay rent in the same (almost) way. The property management platform currently supports the payment services Flooz, TMoney and Ecobank. It is not necessary to have the internet connection to carry out transactions.Grossomodo, no more excuses !!
Below, pictorial instructions to show how you can make transactions using your mobile phone.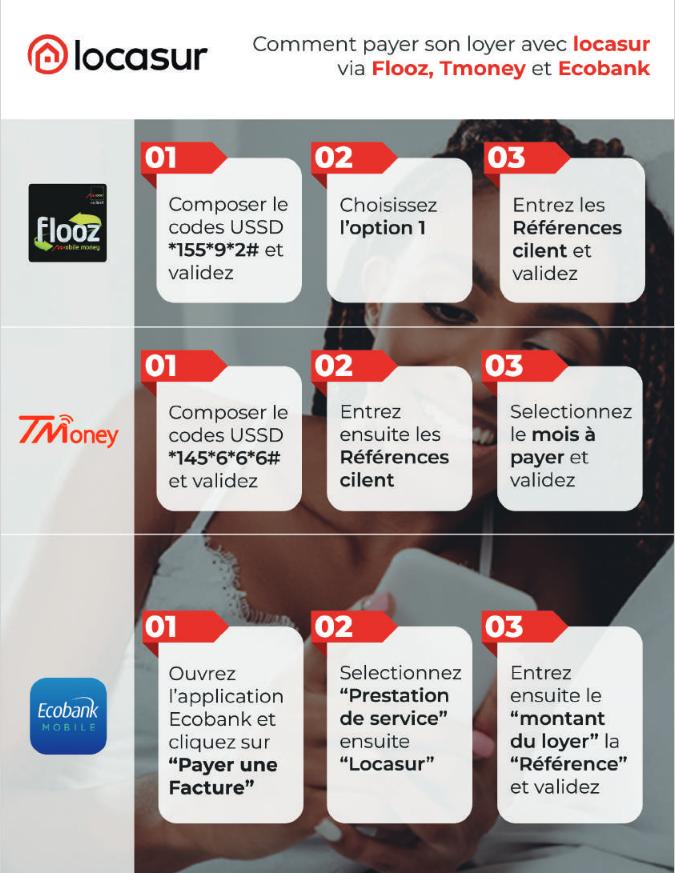 Owners will just have to check their bank or mobile accounts to make sure the account is correct.
What else ?
You have questions ? You want to know more ? We recommend that you download this Flyer Locasur-Press  which gives more details on the online rental and property management service. Visit the website locasur.com to start the procedures.
Last updated June 23, 2022 at 09:04 AM
Conclusion
You may like you may be interested in Software made in Togo that are unknown to Togolese et Togo safe: Togolese application to fight against the covid-19 pandemic