Last updated October 5, 2023 at 09:47 AM
Launch of lidao shop in beta then the new features of this e-commerce. Finally we present the kitchen utensils.
The first time we talked about lidao shop was in e-commerce to discover for shopping in Togo. It was presented as a specialized site for the sale of natural beauty and maintenance products.
Today new categories and ranges of products are posted on the site. There are computers, a few consoles video games and lastly, many added kitchen utensils.
In this post we will find out Lidao shop , how to shop in this e-commerce and the new kitchen utensils on offer.
Lidao shop – New on the e-commerce site
The site at the time of writing this article looks like the image above.
Lidao shop currently presents 4 categories of products which are LONGRICH brand products, health products, technology and finally tableware which contains the kitchen utensils which I mentioned earlier. Let's start with the beginning :
Category LONGRICH
LONGRICH is one of the product brands that are all the rage in Lomé and perhaps in Togo with its competitor FOREVER LIVING thanks to the network marketing system.
LONGRICH brand products are very varied. From toothpaste, deodorant to pills Cordyceps millitaris , you will find your accounts there.
Health products
Among the health products you will find my favorite which is Dudu-Osun black soap , a variant of Nigerian origin.
Black soap, very suitable for our black skin, has always existed since the dawn of time. It is known that natural soap made from various medicinal plants was first created in Africa from West.  
To learn more about the process, nothing better than Wikipedia (https://en.wikipedia.org/wiki/Dudu-Osun).
Today, its most well-known and widespread variant in Togo is the Dudu-Osun brand soap which can be found in the health category of the sales site.
You can easily find it at the market and in some shops, but be very careful.
There are many counterfeits of this soap and the best way to find out is to have your pin code verified on the brand's website.
Note well : I am not an ambassador of Dudu-Osun.
How to go about buying on the site
The purchase of a product in lidao.shop is paid after contacting the merchant using the WhatsApp number indicated on its sales site.
Simply contact the seller by sending them the product that interests you and discuss the delivery method. Generally payment is made by T-Money or Flooz and delivery is made to your home.
If you find that the procedure is a little too barbaric, an application is already provided to simplify your task.
We take this opportunity to offer you the Android application lidao shopping.
Lidao shopping soon on google playstore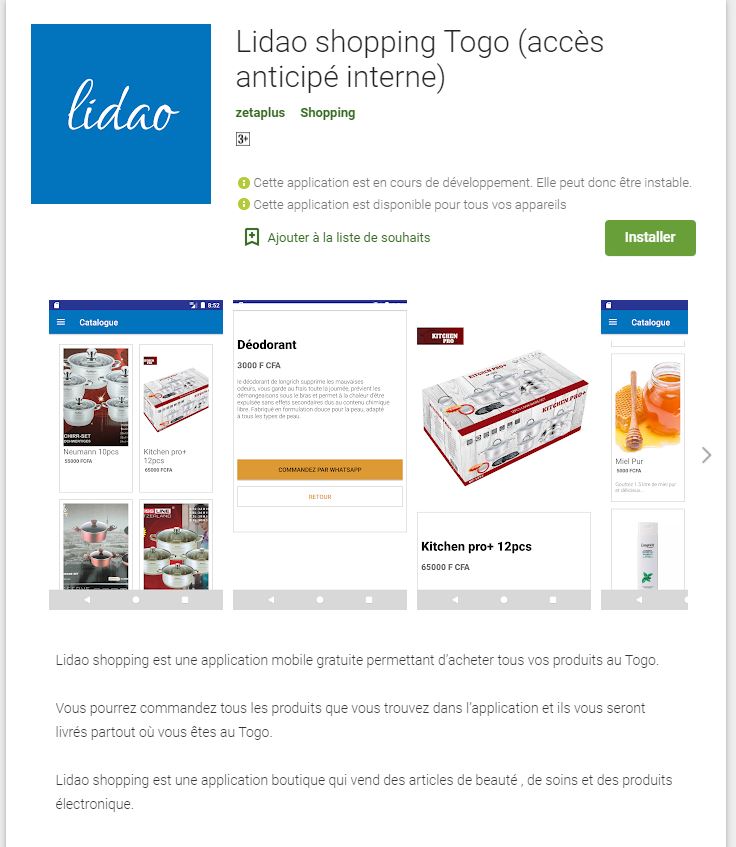 The lidao shop android application is now available for early access in the google playstore. This is an opportunity to test the service and give us feedback in order to help us improve it.
We specify that only the application is in test version but the products are not (luckily for us)!!!
You can register for the test program by following the link play.google.com/apps/testing/com.zetaplus.lidao.shopping.
If you are on Android while reading this article, I advise you to follow the link play.google.com/store/apps/details?id=com.zetaplus.lidao.shopping.
About Zetaplus
We have talked a lot about Lidao shop but not enough Zetaplus which is a startup mobile and web development company based in Togo. His goal is to create great solutions that can improve our productivity and well being.
Portfolio
Social Networks