Last updated August 7, 2019 at 02:29 AM
We often talk about todo list in tedidev without explaining in detail what it is for. A todo list is not a concept as simple as its name suggests. Literally it is the to-do list but in reality that is not all. In this article we will discover how to make your todo list well.
26 things to do not to lack imagination
How to learn? The right method
10 tips every entrepreneur needs to know to work faster
What is a todo list?
A todo list according to wikipedia is a process that is intended to be simple and effective for managing the tasks of a project. These tasks can be independent or on the contrary carried out in a certain order. To go into the details of a todo list or task list, it is also:
A simple three to five task overview that lets you identify and visualize a group of tasks in one place for good SEO.
an organizational tool that can be used for planning with agenda, post-it notes, email, instant messaging, SMS and other electronic strategic communication services, etc.
It is also a Not to do list, which is the list of things not to do during the day (weird isn't it?). It might not be the right time to do some chores so you put the chores in don'ts, let alone forget. The advantage is that it allows you to concentrate on an activity if you are busy. For example: during homework period, you wouldn't want to chat with friends, watch TV or leave your room.
58 things to know to improve your productivity
Google reply: The intelligent message responder
3 things to know to be visible on the web
Why make a todo list?
There are many advantages to completing a task list, but we will mention the most important.
Stress reduction: you know what to do and which task is your priority. Completing the tasks you have scheduled will give you pleasure, a sense of accomplishment.
It's a memory aid: that reminds you of important things to do. You can save it to run it the next day.
To develop completion strategies: When remembering a task, we focus on the task, as well as the resources, strategies and options to complete it.
The 5 reasons why you should love reading
45 tips to enjoy life to the fullest
How to make your todo list
The best way is to define a maximum of 3 to 4 tasks.
For each task defined, expand them if possible into 3 sub-tasks at most. These subtasks are steps to accomplish the tasks.
These steps can then be rearranged in order of priority. the goal is to know what to deal with first.
Enter these sub-tasks in your agenda, email, instant messaging, SMS, post-it notes and other note taking so as not to forget it.
30 things you need to stop doing yourself to be successful
Application of the day: SusuNote
JeNote: Notepad, todo list, voice memo and notes
In conclusion:
A todo list is one of the best ways to improve our productivity. It is more effective if you make it a habit.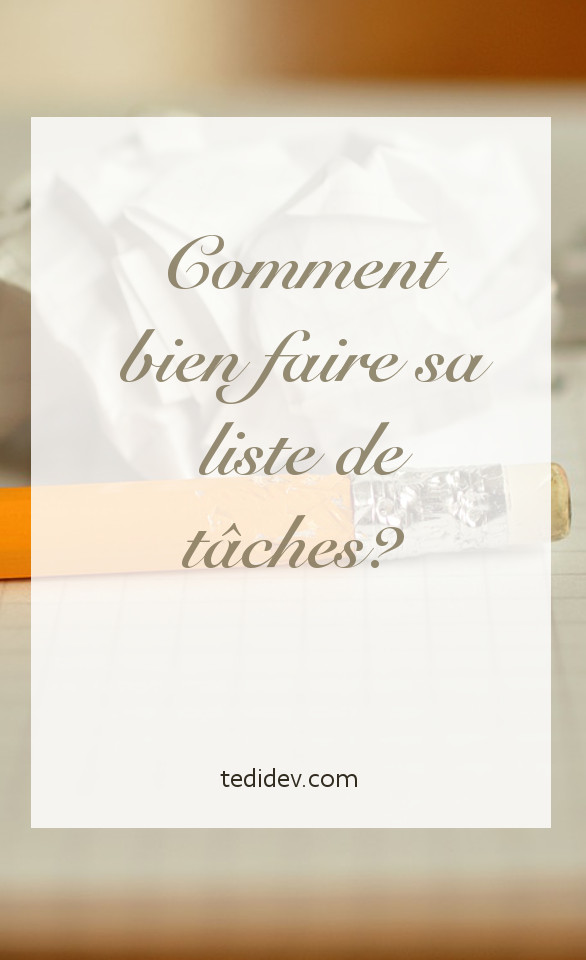 See as well: