Last updated October 26, 2022 at 09:32 AM
Discover the 3 key trends that will help you promote your company in 2022.
These days, any business that wants to be successful must follow future trends in SEO. Search algorithms and search engine mechanisms are constantly changing. Some things get stale while other processes get better. Knowing about new promotion trends will improve your planning and your search engine rankings.
In this article, discover the detailed guide to the top 3 SEO trends for 2022.
Scraping the web - practice and techniques to get started 
[bctt tweet="Detailed guide to the top 3 SEO trends for 2022″ username="tedidevblog"]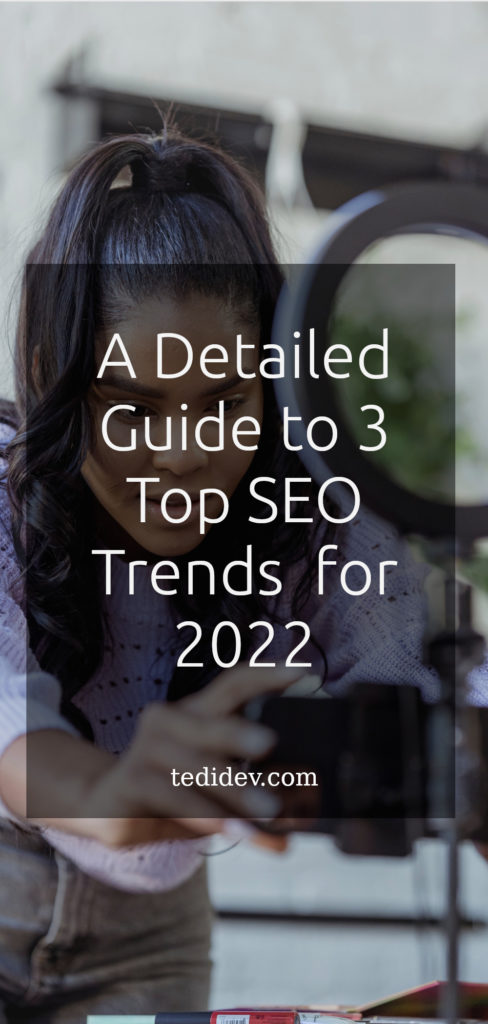 3 main SEO trends for 2022
What has changed since 2020? The principles by which Google looks for quality sites to appear in the first search results have remained the same. However, Google's formats, capabilities and requirements have changed.
If you've been SEO for a long time, this trending article will help you:
choose the right objective, to prepare for future updates,
save time and stay ahead of the competition.
Stay tuned for more on the SEO trends to watch in 2022.
Gtranslate - If you see this error constantly - then please make sure that you are not blocking our IP address… Troubleshooting
Core Web Vitals - Google Search Page Usability Score
In 2022, Google's usability signals will be taken into account when determining page rankings. Additionally, content that is not hosted on AMP Pages and follows specific rules will be displayed using the Top Stories feature in Search. When ranking in search results, priority will be given to pages that are easy to navigate. The technology used to create the page (eg AMP) will not be taken into account.
The essentials of the web are a collection of factors that Google takes into account when evaluating how users interact with a website. There are three specific indicators for these SEO trends:
Largest Content Paint (LCP) - this is the load time of the largest element on the page the user sees - a block of text, image, video, or other content.
First Input Delay (FID) - "first contact delay" - the time between clicking on the page and the browser's response to that action.
Cumulative Layout Shift (CLS) - A measure of how much page elements move during load.
How can you improve Google's page quality usability score?
In Google Search Console, go to the Internet Essentials section. Take a look at the complete structure of your pages.
Well-known blogger and founder of dating site Brian Dean claims he did not see a strong correlation between positions and metrics in this report until the number of errors in the report on mobile devices started to increase. In his opinion, efforts should be made to bring the number of pages in the red zone towards zero.
Being in the red zone has a very negative impact on your SEO. Switching from the yellow zone to the green zone, according to his findings, does not have as great an effect as leaving the red zone. Stepping out of the red zone may not yield instant results, but it is a very important strategic task for the top SEO trends for 2022.
Google Passage Ranking
On October 15, 2020, Prabhakar Raghavan, Google Senior Vice President, Research and Assistant, Commerce, Geo, Ads, Payments and NBU, published the article, "How AI is powering a more useful Google".
In the article, he claims that over the past 22 years, Google has made significant progress in improving Google's search algorithm and SERPs. Thanks to the'artificial intelligence, they will make many more changes to search results than in the last ten years.
In addition to the BERT algorithm and voice search improvements, a way to find relevant content using Passages was also introduced. This algorithm allows you to rank specific parts of your text pages.
To improve the appearance of certain parts of your content in Google SERPs:
Divide the contents into meaningful blocks.
Write it down a good title. Imagine the challenges your readers may face when designing the structure of an article and its captions.
Use H2 or H3 subtitles to separate content.
Write enough text and try to focus on the keywords and LSI queries in the first paragraph.
AI puts 11 African languages ​​in front of neural network model
Website optimization for Google EAT requirements
After an update in May 2020, many sites experienced the effects of the Google EAT algorithm. Optimizing sites for this algorithm is a go-to recommendation for anyone writing expert content. Use all the possible SEO trends and news to show your content is expertly written, or prove your data's correctness and accuracy by referring yourself to experts.
Here are some requirements to optimize your site for Google EAT:
Make sure that your content is sufficiently expert, and that the information is not contradictory, links to primary sources are recommended instead of links to sites citing them.
The author of the text must be an expert in the field. This is especially true for medical websites.
The "About Us" page should be well developed. Add information about the company and its history, the composition of the team members, the company awards and other important facts about its activities.
Your site is not the only place to convince of your authority. Work to increase the number of reviews on various sites.
Encourage her citation your site regularly. For example, you can use HARO to get expert quotes on your business and get free links from various publications and ezines.
Use special services and remove highly toxic links in Google Search Console.
Conclusion
There are a lot of opportunities and tools at Google. The task of a specialist is, depending on the business needs, to select the necessary set of tools that will generate traffic and leads from the organic channels.
Summarizing the results of SEO trends for 2022, we can conclude that algorithms have started to better understand the marketing component and user intention. This means that you need to take advantage of the broader features of Google and other platforms that are likely to generate traffic. Of course, not all of the changes in SEO trends are waiting for you in 2022, but these three basic tips will help you improve your SEO strategy.
Auteur: Davis is a marriage and family therapist. She has worked in various therapeutic settings over the past 7 years, providing services to children, adults, families and couples. She is currently doing specific research on the subject. Miranda enjoys traveling and hiking.
Last updated October 26, 2022 at 09:32 AM
We take this opportunity to thank you for following TediDev throughout 2021. Happy New Year 2022 and best wishes. You may be interested in: