Last update September 17, 2022 at 06:07 am
In this article, improve your productivity with these 10 Google Drive tricks.
Today, Google Drive is more than just an online storage service, it is considered a complete office suite. Even though it looks basic, Google Drive offers a whole bunch of cool features.
Here are some tips for using Google Drive well, which you might find helpful in improving your daily productivity.
[bctt tweet="Google Drive – 10 tips to improve your productivity" username="tedidevblog"]
10 Google Drive tips to improve your productivity
1 - Dictate your texts
Google has integrated a voice recognition function into its Google Doc application, which allows you to quickly dictate your texts. Whether on your computer or on your smartphone, you can very easily dictate and edit text, using the built-in microphone of your computer, smartphone or tablet, or through an external microphone.
This feature is very useful for those who write blog posts, reports and social media posts.
To use this function, click on the Tools menu then on Voice input.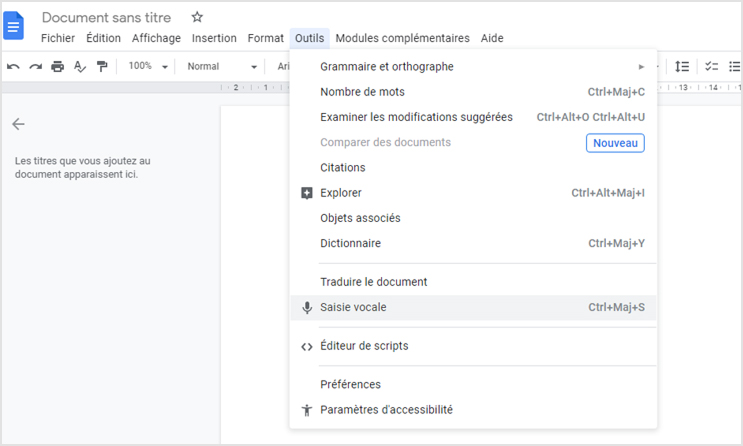 2 - Share large files
You may know that most email services do not allow sending large files.
Google Drive offers this service, you can share large files (high quality pictures, videos and sound) by simply storing them in a Google Drive folder in your computer and synchronizing it with your online storage.
There is another method to send one or more large files with Google Drive using Gmail.
3 - Access your files on any device, wherever you are
To help you be more productive, Google Drive makes it easy for you to access your files and folders. Whether you work at home or on the go, you can view and edit your files anywhere and on any device.
With Google Drive's mobile apps, it's easy to work on files and co-create documents, wherever you are.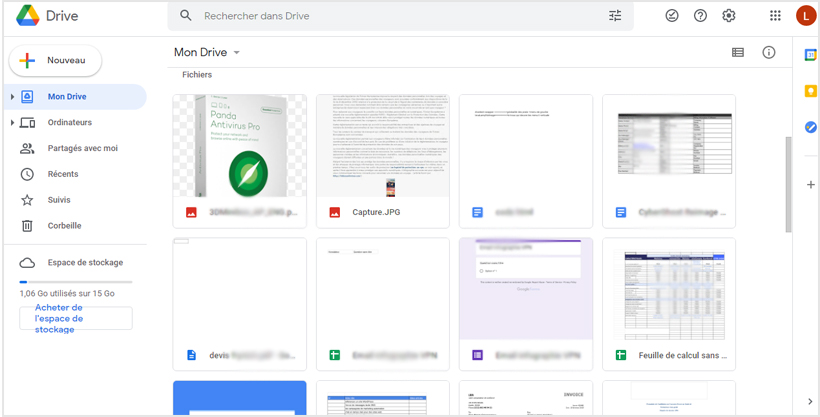 Is a business plan necessary to be successful in 2021?
4 - Work together on a collaborative project
Google Drive offers the possibility of working on a document with several people, thanks to collaborative work features integrated into Google Doc and Google Sheet.
With the tools of Google Drive, several people can simultaneously edit a document, and view the changes made by each person in real time.
Using these tools is very easy, you just have to invite collaborators by clicking on the "share" button. A window opens, which allows you to add collaborators via their email address. Then, you manage the access rights (view / modify the document, invite other collaborators, etc.).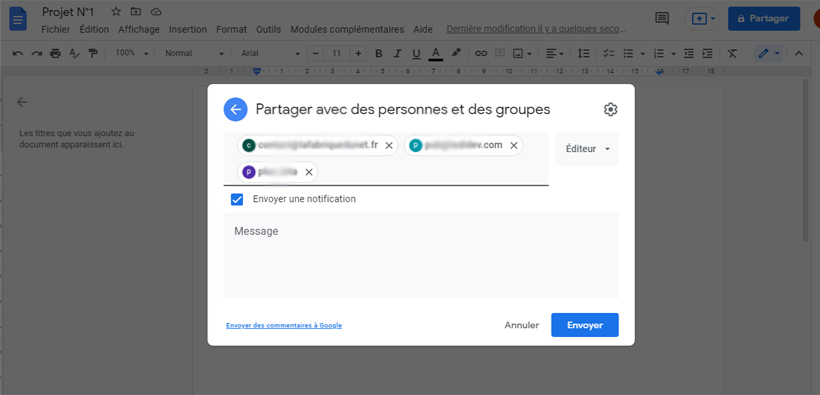 Footnotes : To be able to access and modify the document, your collaborators must have a Google account.
5 - Scan and archive your documents
If you use Google Drive, you unknowingly have a tool for scanning and archiving documents. With this free tool, you can scan your documents (receipts, bank statements, letters, invoices, etc.) to save them in Google Drive in PDF format.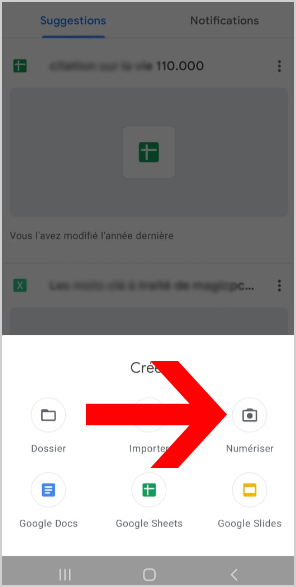 This feature will save you a lot of time if you have documents to scan every day.
6 - Organize your links and resources
If you're like me, using Windows Notepad or other note-taking app to save links to your blog posts or favorite videos, you're going to love Google Doc because it'll help you organize your links. to be able to access it very quickly.
You can create documents to organize your links by category, topic, etc.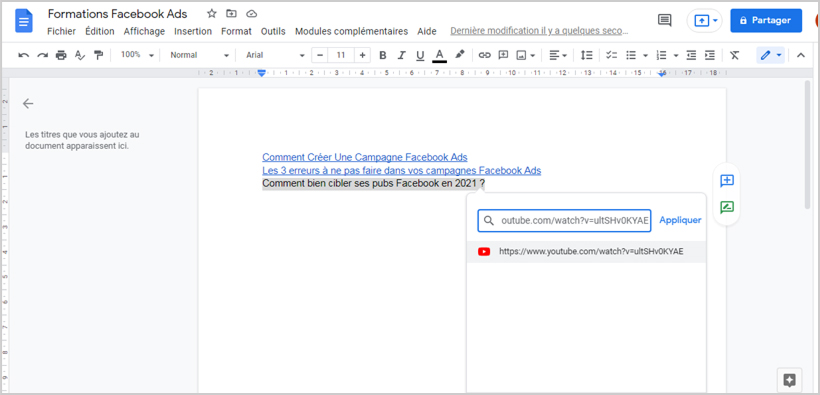 7 - Associate more productivity applications
Another advantage of Google Drive is that it offers the possibility of adding other functionalities by connecting tools and apps to Google Drive (there are productivity apps, project management, communication, etc.).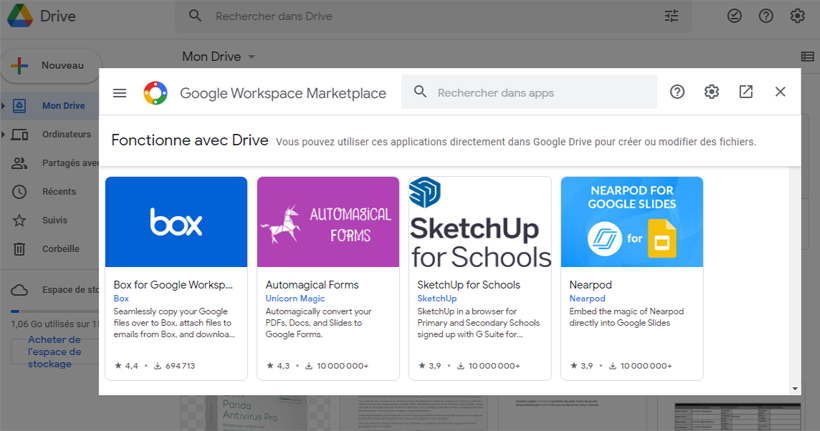 You can use any of these hundreds of apps right in Google Drive. They are developed by third party developers, but there are also applications created by Google.
8 - Send emails via Google Sheets
One of the coolest tips I discovered not too long ago that increases productivity is sending emails directly from a Google Sheets spreadsheet. .
This tip will help you quickly send predefined emails from Google Sheets, it will save you time and productivity. When it comes to sending recurring emails, this trick will save you from having to type your emails manually each time you want to send an email.
By integrating the module yamm (Yet Another Mail Merge) to your Google Sheets, you can send bulk mails for free and without using a auto-responder.
9 - Check spelling and grammar in Google Docs
Another very useful Google Drive feature for those who use spell checkers like www.reverse.net. This is a spell checker.
In fact, Google Doc can automatically correct spelling mistakes in your texts and suggest spelling and grammar variations.
This feature is enabled by default in Google Doc.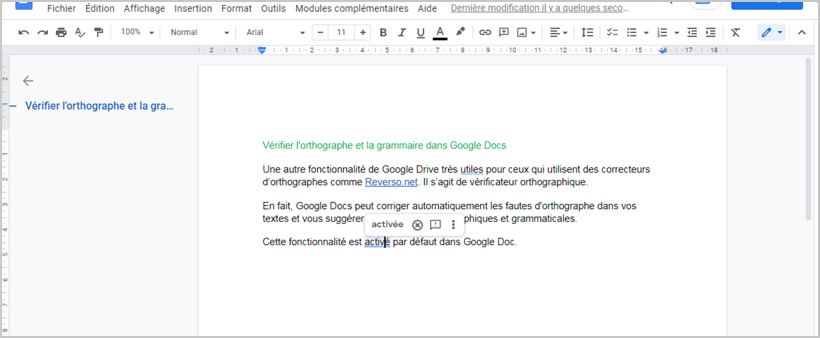 24 rules of life according to Bill Gates for students and entrepreneurs
10 - Translate your texts and documents directly in Google Doc
One of the hidden, time-saving features of Google doc word processing software is text translation.
Google doc allows you to translate documents into many languages ​​and instantly create a copy of a document in another language of our choice.
To do this, open a document in Google Docs, then go to the menu at the top, and you click on Tools then Translate document.
Have you ever used any of these Google Drive tricks? Let us know in the comments.
Auteur: Lauran Frynich, IT Security and Systems Specialist anime the Lebonantivirus educational portal.
Last update September 17, 2022 at 06:07 am
Conclusion
You may be interested in 58 things to know to improve your productivity et Astria Ascending to be released in September 2021 on multiple platforms