Last update April 4, 2023 at 05:42 AM
If you know theanime Made in Abyss, you will certainly be interested in his first game, Binary Star Falling into Darkness.
If you have never seen this anime, I highly recommend you read this made in abyss – season 1 . Serious !!
For those who know him, we agree that Binary Star Falling into Darkness is not going to be the game for your kids under 18.
In this post, we will talk about Binary Star Falling into Darkness .
The game based on the anime Made in Abyss will allow you to put on the costume of the Explorers of the Abyss and experience the adventure as if you were there.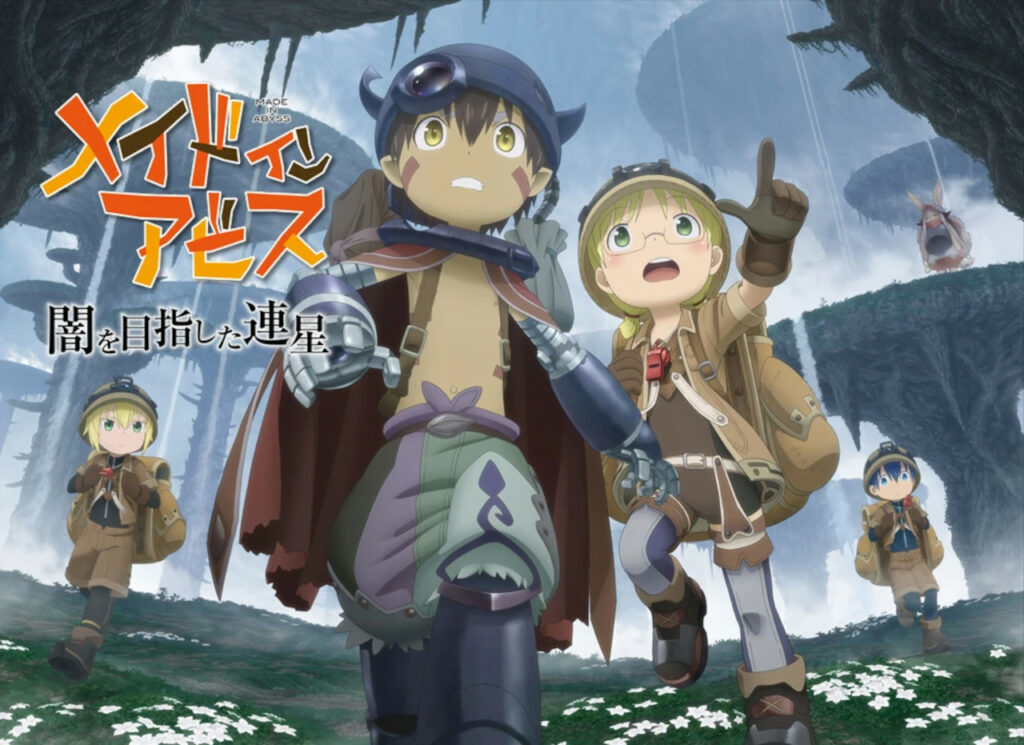 Made in Abyss: Binary Star Falling into Darkness – trailer
Synopsis of Binary Star Falling into Darkness
Includes story from the Made in Abyss anime
The story begins with Riko and Reg meeting in the first episode of the first season. This marks the beginning of their great adventure, and together they travel to Seeker Camp in the second layer of the Abyss.
A whole new in-game story
Another story takes place several days after Riko and Reg leave for the Abyss.
The only unconquered chasm left in the world, the Abyss, is the stage where many adventures are born…and disappear. Those who appear in these stories are hypnotized by the power of the Abyss and aim for the bottom of the underworld.
The story about to be told is of the adventures of an unnamed Cave Raider in the Abyss. An original story, supervised by Akihito Tsukushi! , the author of the original Made in Abyss series.
Made in Abyss: Binary Star Falling into Darkness – review
The game is not unanimous on its Steam page.
According to the review, the graphics are not up to par with game consoles. There are bugs and some find the game a little too difficult and long in its second part.
If the objective of the game is to make us experience the life of the explorers of the Abyss, I would say that the gameplay would correspond well to the games. ( it's my opinion).
Everyone agreed on at least one point. The game is too expensive for what it offers. Certainly we pay more for the license.
Detailed Game Info Made in Abyss: Binary Star Falling into Darkness
Title: Made in Abyss: Binary Star Falling into Darkness
Initial release date: September 2, 2022
Developer: Chime Corporation
Publisher: Chunsoft
Genres: Role-Playing Game, Action Game, Adventure Game, Fighting Game, Single Player
Platforms: Nintendo Switch, PlayStation 4, PRAÇA
Website:   spike-chunsoft.co.jp/miabyss/en/
PC Game Requirements
MINIMUM CONFIGURATION:
64-bit operating system and processor required
Operating system : Windows 8.1/Windows 10 64-bit
Processor : Intel Core i7-3770, Intel Core i3-4170, Intel Celeron G1820, Intel Core i3-3225, Intel Core i7-3770, AMD A10-5800K
RAM: 8 GB of memory
Graphics: NVIDIA@ GeForce GT 630(2GB) or more
DirectX: version 11
Disk space : 20 GB of available disk space
Soundcard : DirectX compatible soundcard or onboard chipset
RECOMMENDED CONFIGURATION
64-bit operating system and processor required
Operating system : 10 64-bit Windows
Processor : Intel Core i7-3770
RAM: 8 GB of memory
Graphics: GeForce GTX 1080
DirectX: version 11
Disk space : 20 GB of available disk space
Last update April 4, 2023 at 05:42 AM
See also: