Last updated November 1, 2022 at 11:17 AM
Chinese scientists have created a computer that mimics how the brain works. His name is Darwin Mouse.
The engineers from Zhejiang University and Zhjiang Lab created China's first neuromorphic computer. They call it Darwin Mouse because it contains the same abilities as the brain with a smile. This machine, which functions like the human brain, has unique advantages that are not found in traditional computers and supercomputers.
Before talking about Darwin Mouse, let's talk about the advantage that neuromorphic computers provide.
[bctt tweet="Darwin Mouse: The computer that mimics the brain" username="tedidevblog"]
Advantage of neuromorphic computers
Neuromorphic computers are the newer types of computers that function similarly to the human brain.
According to the Human Brain project of the European research program, the human brain is the most powerful supercomputer in the world. monde. With a weight of 1,2 kg, it can perform over 1000 trillion logical operations per second. It is estimated that its energy consumption would be less than 20 Watt, the power consumed by a light bulb. With these characteristics, it is normal that researchers in computer science are interested in the creation système functioning exactly like a brain.
Creating a super calculator operating on the same principle of the human brain could only be beneficial.
Today the algorithm development ofartificial intelligence, facial recognition, hearing recognition and machine learning requires a large amount of data and extraordinary computing power.
Neuromorphic computers would be the ideal machine model to perform several complex processing operations of theartificial intelligence and digital recognition.
The Darwin Mouse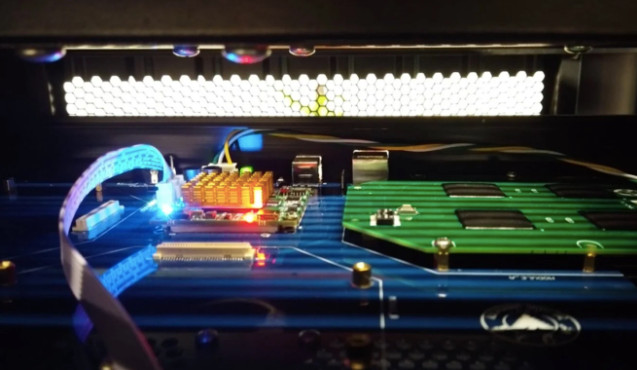 The Darwin Mouse currently manages to emulate the functioning of a human brain with the capabilities of the mouse brain using the equivalent of 120 million neurons and 100 trillion synapses.
This PERFORMANCE is possible thanks to the specialized chips it uses. These chips are called Darwin 2 Neural Processing Unit (NPU) and are 792 in the supercomputer. These chips electronic are designed by the same university and each support 150 neurons.
The Darwin Mouse supercomputer consumes around 500 Watts of energy while la machine the most powerful in the world, Fugaku, feeds off 28 million watts of power.
There are other supercomputers that are modeled on how the brain works. The best known is SpiNNaker (Spiking Neural Network Architecture).
Last updated November 1, 2022 at 11:17 AM
Conclusion
Maybe you will like Microsoft: The quantum computer development kit available on MacOs and Linux et PuriCare: LG announces innovative electronic mask
Source: https://www.scmp.com