Last updated February 23, 2023 at 05:20 AM
A discussion on the decision to buy or build your gaming PC with a budget of 500 Euros. My strategy for doing both. Case of the Provonto Lite PC Gamer.
Membership: This page contains affiliate links. This means that for every purchase you make through these links, a portion will be returned to us by the seller(s). 
If you ever buy through one of our links, then THANKSIIIIII. This contribution will allow us to maintain TediDev longer with better content.
When exiting the game god of war 4 I very quickly encountered the limitations of my ASUS ROG gaming pc. This led me to do many hacks to increase game performance .
All this was not enough because the capacities of my laptop gamer are much lower than the minimum prerequisite of the game God of war 4 . I was very frustrated.
This frustration of having the game in hand but not the console to play it.
it reminds me of when i wanted to force a nintendo 64 floppy disk onto my simple nintendo console hoping i could play it. Happy childhood!!
From this frustration, it is now clear that I need a new gaming pc and dedicate the laptop to my freelance work.
Like many of you, I had to choose between buying his gaming pc or building it. Before getting to the bottom of the subject, I have to talk to our fanatic friends of laptop gamer pc.
Buy or build your gaming pc? My strategy to reconcile the two.
The easiest strategy I've found is to buy a gaming PC and build it at home.
I know it might sound weird when you say it that way. To better understand my strategy, the problem must be dealt with on a case-by-case basis.
Problem when deciding to build your own PC.
When you have to build your own pc, you are responsible for choosing each component that makes up your future tower. video games. It sounds cool to make your own pc but there is a problem:
this requires a lot of knowledge about the compatibility between components
It's easy that your budget ends up being much more expensive in the end.
It takes a lot more skill when you have to screw everything back on.
If building your own pc is a problem, you can simply buy a gaming pc.
For the latter, you have to be very careful with your choices. In my opinion, you should avoid portable gaming PCs if you are investing for the long term. 
Why would a gaming laptop be a bad idea for video games in my opinion?
Initially, I was a fan of using laptops as gaming PCs. The reason I gave myself was that:
in case of power failure I have time to save my game
The list could go on, I found that I had the comfort of a laptop and the performance to play. I was in this state of mind until I encountered more and more demanding games.
The problem with laptops is that they are limited in customization. I added and swapped rams, added an SSD hard drive alongside a SATA.
When I had to replace the NVIDIA GeForce GTX 950M graphics card with a more powerful one, I found myself stuck. The only way to upgrade a desktop gaming pc's graphics card was to buy a new one.
You will understand, a laptop gamer is limited in time while there are more and more demanding games in CPU / GPU waiting to be experienced.
The best option you have left is to employ a desktop gaming PC.
desktop gaming pc
Finally here we are!! This is where I would like to come back to. Buying a desktop PC for video games has several long-term advantages:
The tower is assembled and tested at the seller's before being delivered to you
The product delivered to you component by component and at home it is much easier to assemble them.
In the long term, you will be able to easily replace the components of your lathe when needed.
With this method, you will only spend on one component at a time without worrying about compatibilities.
Provonto Lite PC Gamer – review
In my quest for a budget gamer pc, my choice fell on Provonto Lite PC Gamer.
Before continuing I would like to specify that I was not approached by the brand to promote their product.
My choice fell on this pc because at the time of the order, it turned out to be better in value for money for my budget.. I ordered it at 469 Euros.
As a reminder, the objective was to have a tower with basic components allowing me to play God of War. Then I could upgrade it (add more powerful components) over time to play more demanding games.
Desktop and gaming computer came with a video card NVIDIA GeForce GTX 1050 Ti . Card with which my budget of 500 euros would be exceeded if I ever decided to build my own gaming pc.
Assembling
The assembly of the tower was done without difficulty. The motherboard, the ram and the hard disk were already assembled before being delivered. All that was left to do was mount the video card that came separately and the wifi antennas.
Despite my beginner pc editing level, I was able to do it without problem. 
Here is my pc mounted in operation.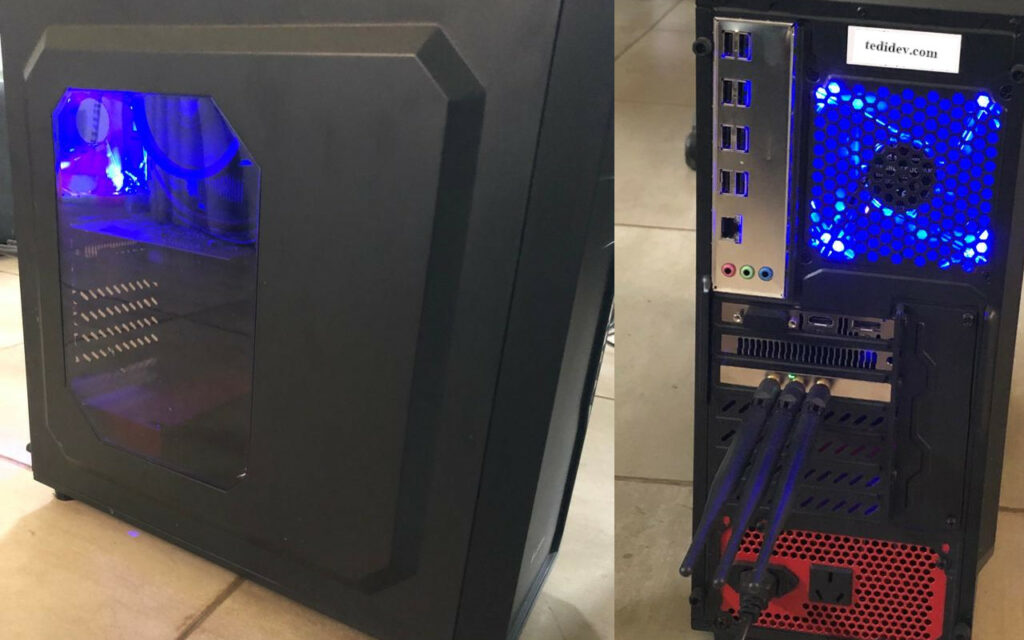 Functioning
After 3 months of use playing multiple games at once. I didn't encounter any problems. Just a few blue screens here and there and then it's gone again for a long time.
I even had time to finish the God of war game and write my review on the page GOD OF WAR PC REVIEW - My spoiler-free reviews and reviews after over 50 hours of gaming .
Where did I find it?
I ordered this pc from amazon.
At the time of writing the post I researched it but only found an alternative model that may be better than what I ordered over 3 months ago.
Click on the following link to find details about this tower:
You can choose towers of the same brand by going to his Amazon store .