Last update May 17, 2023 at 11:36 am
Discovery of theanime Overlord, a genre that should not be missed if you like seinen-type dark fantasy.
I discovered the Overlord anime by the memes and some pictures. The first time, I really wasn't interested in anime.
Frankly, who can identify with a living skeleton?
After watching the anime out of curiosity, I started thinking:
He is so cooool. He's finally better off the way he is.
In this post, I tell you about the anime Overlord and I give you my go on this work that you will not all like. I take this opportunity to tell you what kind of anime it is, to help you decide if it's worth watching for you or not.
There are up to 4 seasons, enough to spend a good weekend.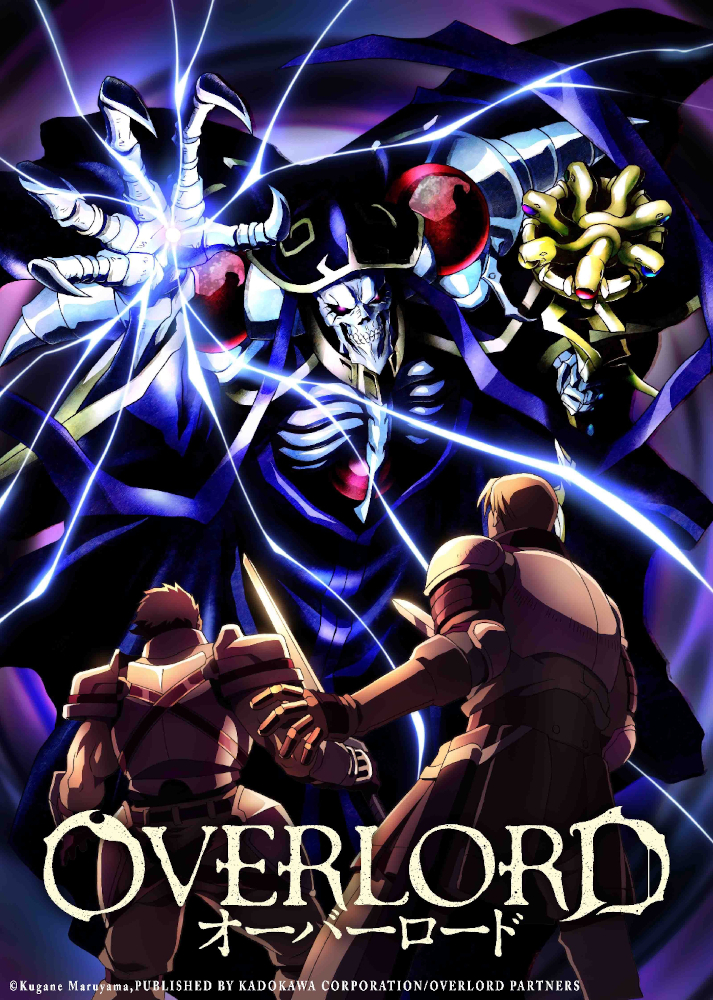 Overlord Anime Synopsis
Adapted from the novel Overlord by Maruyama Kugane and so-bin.
The story begins in a game called Yggdrasil, the most popular game of the moment. However, the latter decides to close its servers at midnight.
We then follow a player under the pseudonym of Momonga. The latter is the leader of the guild and decides, on his own, to wait until the game closes. Problem, as midnight has just passed, our dear Momonga is still in the game.
It is then that he quickly notices that this is no longer the game he used to spend his days at. Game controls no longer exist and NPCs have become beings with feelings and existence of their own.
Although disoriented, Momonga quickly takes matters into his own hands and decides to make his name a legend thanks to his Level Guardians.
My opinion on the Overlord anime
The anime based on a novel of the same name is a stroke of genius.
Overlord is raw, cruel and unfair depending on the point of view without always showing it explicitly.
First of all, you will sometimes be revolted by the deaths of certain people, you will find the character a little too (nasty) towards humans.
But after careful consideration, frankly, humans are no better. The backstory of many key characters are really... You're going to hate them right away.
If you can't find it in the anime, the light novel goes into more detail. In the end, every good intention of the majority of humans covers shameful secrets that they try to hide.
In Overlord, you may not like the main character, but then again the humans are no better.
The author seems to take his time to show all the facets of the bad sides of humans, as well as the good sides too.
Overlord is not for everyone, if you liked Made in Abyss, the Overlord anime may be your genre.
Watching this anime, tell yourself that no one takes sides with anyone. (especially not humans). You may be disappointed later.
In what order to watch the Overlord anime
Recommended order
The order in which we watch the Overlord anime is pretty obvious. But there is film 3 which chronicles the events between Overlord 3 and 4.
We're not sure of the release date for the latter, but even if you don't see the film, you won't feel like you missed a thing. Besides, the light novel is 1000 times more detailed than the anime.
Overlord I
Overlord II
Overlord iii
OVERLORD FILM 3: SEI OUKOKU-HEN (in production)
Overlord IV
Order by movies
The Overlord anime movies are all recaps with some details taken from the light novel. This gives more explanation to the events that take place with new scenes.
I will recommend it if you are watching the anime for the second time.
OVERLORD FILM 1: FUSHISHA NO OR
OVERLORD MOVIE 2: SHIKKOKU NO EIYUU
OVERLORD FILM 3: SEI OUKOKU-HEN (in production)
Overlord IV
Detailed info on Overlord
Overlord is a light novel series written by Kugane Maruyama and illustrated by so-bin.
Alternative title: Overlord
Origin: light novel
Genres: Action, Adventure, Dark Fantasy, Isekai, Science Fiction, Seinen
Animation studio: Madhouse
Author: Kugane maruyama
Illustration : So bin