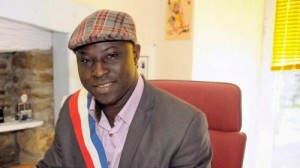 Simon Worou was elected mayor of Sainte-Juliette-sur-Viaur, 20 km from Rodez, in the first round of municipal elections in Aveyron. Meeting with this Togolese of origin who became an Aveyron mayor… like the others. 

His wife's grandparents had never seen a black man before when he met them in 1997 in their village in the South West. Seventeen years later, the Togolese Simon Worou is the first mayor of origin
African
from Aveyron. "Something wonderful is happening to me", says this 1,85m "pillar", born in Lomé 43 years ago.
Mayor of a village of 577 inhabitants
The local children he trains in rugby reward him with "hello, Simon!". Neighbors come to clap him on the shoulder, to put him in the room, by way of "congratulations to the mayor" of Sainte-juliette-sur-Viaur (577 inhabitants)… In 1997, Simon discovered for the first time this village twenty kilometers from Rodez, its two bell towers, its old brown stone farms, and its collections of sheep's milk for Roquefort cheese.
"I was studying as a non-commissioned officer in the French Air Force, atRochefort (Charente-Maritime) and I was invited to the parents of my (future) wife. His grandparents had never seen a + black + in their life… Then my stepfather - a very open farmer - asked me to go play rugby in the neighboring village of Cassagnes-Begonhes. And I was amazed at the welcome, adopted ".
Integration through rugby
"The hard knocks, he nevertheless experienced on the ground when the supporters threw him" rasta "," eat your banana "," dirty nigger ", remembers Olivier Rebois, his rugby coach in Rodez from 2 and his friend. Racism, Simon also says he "felt a bit in the job" when he took all the available jobs in the area - butcher of pigs at the slaughterhouse during the day and bowling doorman in the evening - before managing a team in charge of cleanliness at the Rodez town hall.
The town hall suspected him of having a "white" wedding
The man has not entirely forgotten that in 2002 the town hall of Sainte-Juliette had refused his marriage file, presumed "white" because he was suspected of marrying his fiancée "for the papers"… couple had gone to get married in the next town. But confidence won out and we quickly went from "where is the black?" to "where is Simon?" he said.
In the heart of Sainte-Juliette, an 80-year-old former farmer spontaneously says: "He's from the area now! He is married to a lady from here, lives in an old renovated barn, his son goes to the municipal school. What do you want, don't be racist! We must try. He is very nice, quite jovial and when he went around all the houses, I found him to be good ".
Result: The unlabeled list he drove as a former city councilor gathered 62% of the votes from the first round in March. He collected 222 votes - out of 357, some of the villagers having, all the same, crossed out his name. At the restaurant "Au parfum d'Aveyron" where he crumbles bread in his soup and drinks red wine with his charcuterie, Simon relishes "the recognition" that the election offers him and says to himself "Aveyronnais, that's it. ".
PS activist
"FN voters come to have a beer at home, it doesn't bother me. I love the human. Many. Whatever his a priori, his membership ", said this activist in the Socialist Party.
In Lomé, the teenager was already looking for all avenues of integration through the collective: at the minor seminary from the age of 11 with the idea of ​​"becoming a priest", then in the French army which recruited in his country, until become a non-commissioned officer. "We were a generation with no prospects. We were thirsty to know something else, "he says.
Togo then lived under the reign of Gnassingbé Eyadema - in power for 38 years until his death in 2005 - and whose son Faure Gnassingbé now presides over the country. He did try - once - to return to Lomé, but did not last more than a week in an Air Force camp: "I had completely erased Togo in my head". The mayor says today "hide under a big smile" that he is anxious to do well. Twenty-five years after the election of Togolese Kofi Yamgnane as mayor of a town in Brittany.
See as well